Almond Romesco Sauce Recipe
This Spanish sauce will have your taste buds doing a tango!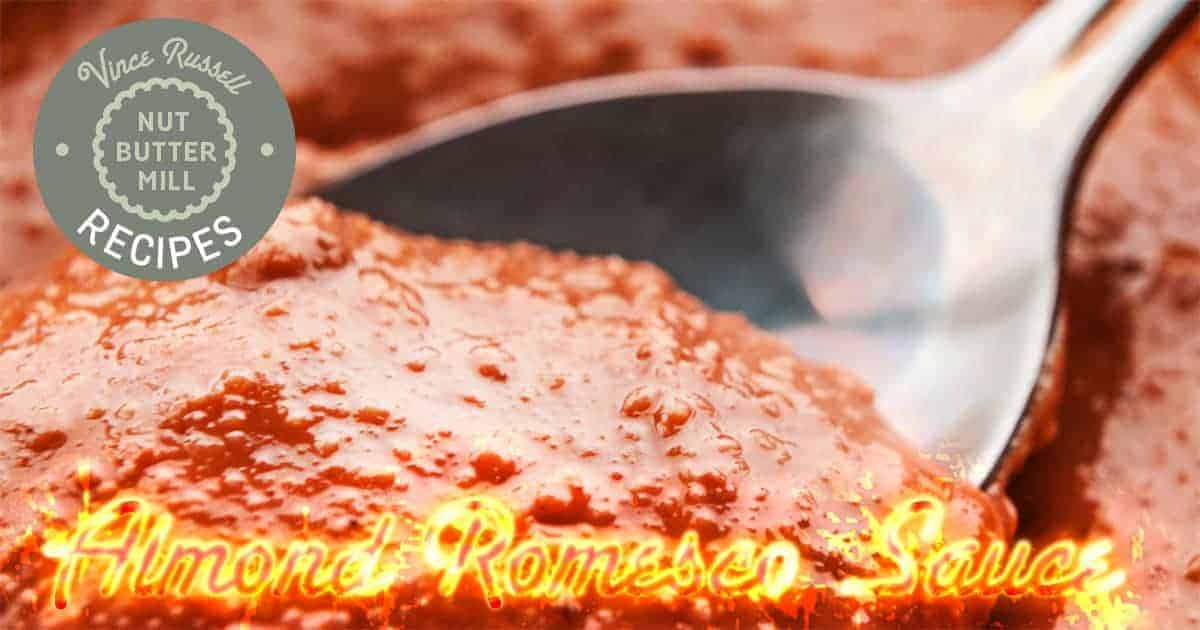 Romesco is a great dip with crusty bread or works well with grilled or baked veggies.
Serves 6–8
Ingredients;
1 large tomato, quartered
1 large roasted red pepper
½ cup almond butter
1 slice crusty bread, toasted and cut up
2 garlic cloves, smashed
2 Tbsp. red wine vinegar
½ tsp. smoked paprika
1 tsp. salt, or more to taste
2 Tbsp. Italian parsley, chopped
¼ cup olive oil
Method;
Pulse all ingredients, except the olive oil, in a food processor until smooth. Continue to pulse and slowly add the olive oil until combined.
Serve room temp, or you can heat it up.
Romesco Sauce
Romesco is a nut and red pepper-based sauce from Catalonia. There are many variations created by adding roasted or raw almonds and/or hazelnuts, roasted garlic, olive or sunflower oil and chilies.  Stale bread or flour is often used as a thickener or to provide texture.
Other common ingredients include roasted tomatoes, red wine vinegar and onions.
During the springtime, salsa romesco is served as an accompanying dip for calçots, a spring onion typical to Catalonia, during traditional springtime calçot barbecues called "calçotades". During calçotades, calçots are roasted over an open fire until their outer layer is charred. The charred layer is then removed and the tender part of the onion may be dipped into the romesco.
Almonds
Almond butter is available in most grocery stores, often right alongside peanut butter. Look for shops that provide fresh nut butter with no preservatives, such as any nut butter made with a Vince Russell Nut Butter Mill.
Almonds are great for runners, since they are particularly high in vitamin E, an antioxidant that protects against toxins, and they deliver a punch of potassium, which encourages muscle recovery.