Frequently Asked Questions
I already sell pre-made nut butters what is the benefit in making butters in the store?
Health conscious consumers like to know the source of the food they consume. There is no comparison to the taste, texture and health benefits of all natural nut butters. Making all natural nut butters in front of your customers will provide your store with a point of difference, your customers will keep returning for more!
Are any additives required to make nut butter?
100% nuts are all that are required to make delicious, all natural nut butter with a Vince Russell Nut Butter Mill.
What is the shelf life of natural nut butter?
Shelf life is dependent on nut quality and storage conditions. Finished all natural nut butters are usually best consumed within 3 – 6months.
What type of nuts can be used?
The Vince Russell Wholenut Butter Mill processes Peanuts, Cashews, Almonds, Hazelnuts, Macadamias, Brazil Nuts as well as blends of these nuts. Nuts that are a maximum of 20mm in length and diameter are recommended.
What products can be added to the nuts prior to milling?
Lightly salted or seasoned nuts can be used for making nut butters. Cacao nibs, chocolate buds and desiccated coconut can also be added.
Do the nuts require to be roasted?
Nuts used for making beautiful nut butters require to be dry roasted with approximately 50-55% oil content.
Containers – Plastic vs Glass
Plastic containers are cheap, readily available and take up less storage space.
Glass jars provide a higher standard of packaging but cost more and are more difficult to store. Some stores will sell the jar separately on the first visit and encourage the customer to bring it back for refilling.
Label requirements –
According to the Australia and New Zealand food code, nut butters produced in the premises where they are purchased do not require to bear a label. Ref F2017C00307 – 1.2.1 – 6 (a,b,d)
How long does it take to clean the mill?
It takes no longer than 5 – 10 minutes to easily clean a Vince Russell Nut Butter Mill. Please refer to our instructional videos.
How often does the mill require cleaning?
Cleaning frequency is subject to usage and local food regulations.
Does the mill require cleaning when changing nut type?
It is not always a requirement to clean the mill when changing nut types.
Are there any parts of the mill that will require replacement due to wear and tear?
Durst Industries have been proudly manufacturing in Sydney Australia for 100 years and have been manufacturing Vince Russell Nut Butter Mills for nearly 40 years. The Vince Russell nut butter mill's unique patented grinding system is made of FDA approved Nedox Plated steel that will last the life of the machine.
How often do Vince Russell Nut Butter Mills require servicing?
Other than regular cleaning the mills do not require any maintenance or service.
What is the power requirement of the machine?
Vince Russell Nut Butter Mills require a standard 220-240 volt/10 amp, 50Hz power supply. 100-110 volt/10amp, 60Hz versions are also available for global applications. All machines are fitted with a IEC power connection for simple compatibility.
What is the weight of a Vince Russell Nut Butter Mill
The gross weight of a Vince Russell Nut Butter Mill is 28kg.
How are the mills packaged for shipment?
All Vince Russell Nut Butter Mills are packaged in high grade, heavy duty cartons suitable for export. Package specifications; 76cm long x 44cm wide x 48cm high. Weight 35kg
How do I find the Vince Russell Nut Butter Mill agent in my region?
The mills are proudly manufactured in Sydney Australia and supplied directly to local and international customers world wide. Freight by Road, Air and Sea is easily available.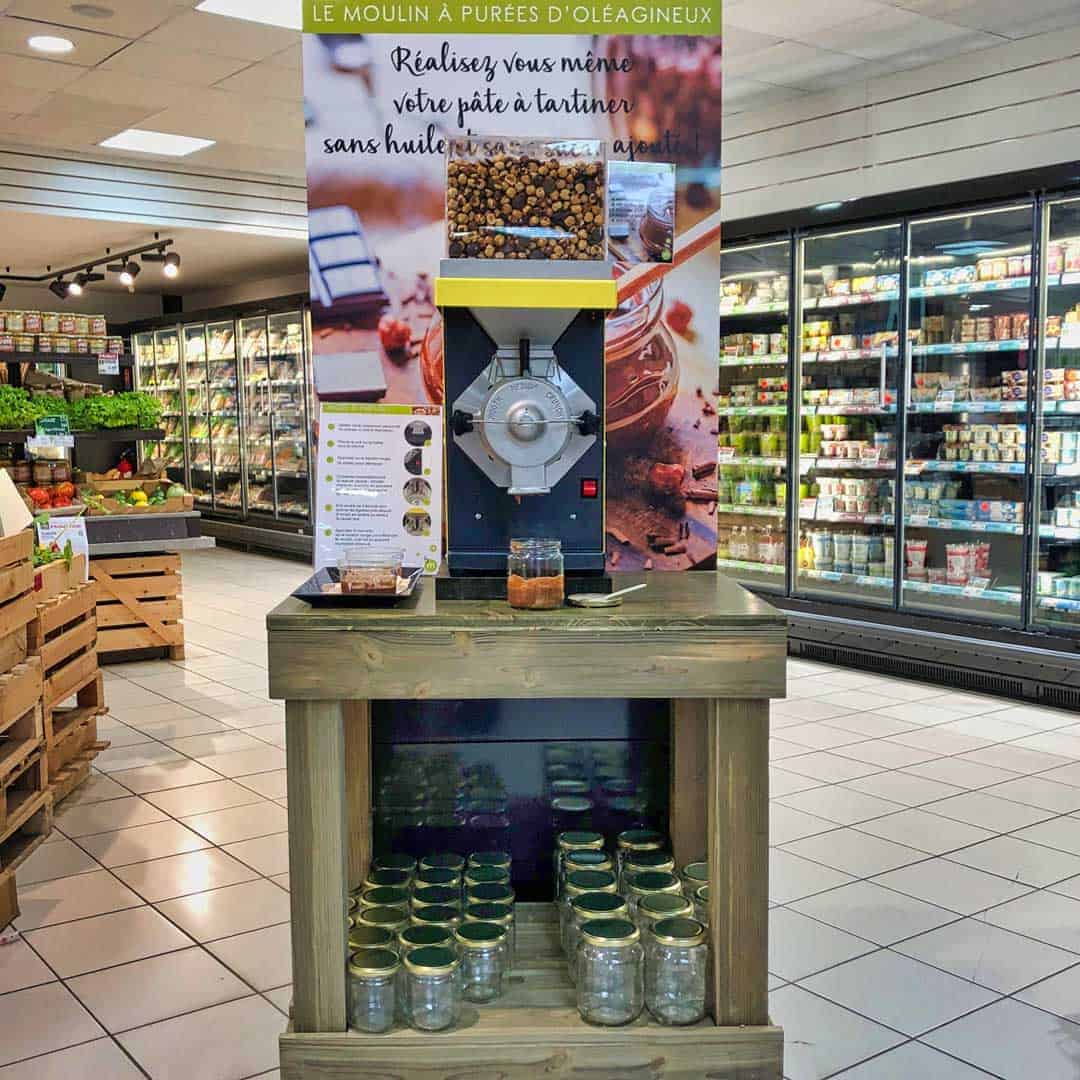 Make your own brand and blends of popular nut butters
Suitable for a mix or straight up:
Peanuts, Cashews
Almonds, Hazelnuts
Brazil Nuts (20mm in length)
Mix in Chocolate pieces, Cacao Nibs and Coconut
(max 10% cacao, chocolate or coconut)
Heavy Duty Nut Butter machines for for:
Health Food Shops, Supermarkets, Restaurants, Specialty Shops, Biscuit Manufacturers, Nut Producers / Importers, Markets
The first to make it possible for Australian stores to enjoy the profits of freshly ground peanut butter. The new Whole Nut Butter Mill is enjoying excellent acceptance in Australia, New Zealand, USA, Saudi Arabia, Canada, Singapore , Ireland, United Kingdom, France, Malaysia and even Uzbekistan!
How do you like your profits?
Smooth, Medium or Crunchy?
Reliable, dependable, and the only adjustable mill on the market. Simply pull the lever to smooth, medium or crunchy to create your favorite blend and consistency.

Smooth vs. chunky peanut butter:
it's a battle of the ages…
Smooth or creamy nut butter is the favorite among consumers. The National Peanut Board claims that 60 percent of Americans prefer smooth over chunky and that women opt for smooth, while men lean towards chunky. They also state that Americans spend almost $800 million on peanut butter each year and that 90 percent of households in the USA consume peanut butter.