with Peanut Sauce Dressing
Enjoy this crispy crunchy, and healthy salad with a delicious Asian style dressing powered by Peanut Butter.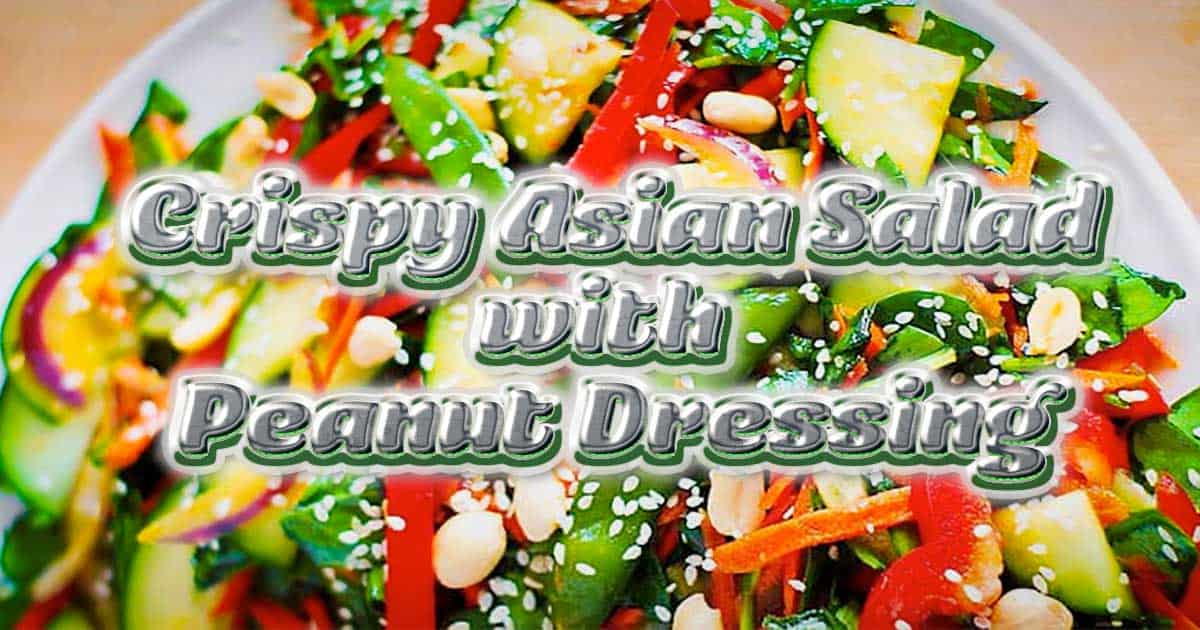 This salad also makes a colorful and refreshing side dish. It's highly nutritious, and beats anything you can buy in a store.It's easy to make so give it a try.
Rich in healthy veggies like cucumber, carrot, sugar snap pea, and spinach which is all tossed in a homemade peanut sauce dressing.
Ingredients for Salad:
6 cups of baby spinach
1-2 carrots, shredded
1 red bell pepper, sliced
½ red onion, thinly sliced
½ cup of peanuts
1 teaspoon sesame seeds
1-2 cucumber, sliced
1 cup snap peas
PREP TIME: 20 minutes
COOK TIME: 10 minutes 
CALORIES: 500 
SERVINGS: 2-4
Ingredients for Peanut Sauce Dressing:
¼ cup vegetable oil
⅓ cup vinegar (use wine vinegar if available)
1 teaspoon ginger, chopped
1-2 tablespoon soy sauce
1-2 tablespoon sweetener *
3 tablespoon peanut butter
2-3 tablespoon sesame oil
* Sweetener suggestions:
Palm sugar
Maple syrup
Coconut sugar
Honey
Salad Preparation:
 Boil a small pot half full of water and add sugar snap peas, cook for 5 minutes, should be tender with a slight amount of crisp, and set aside.
Combine all the salad ingredients in a bowl, mix properly, and pour the dressing over the salad to taste.
An added option is to roast an extra teaspoon of roasted sesame seeds if looking to impress with finishing presentation touches.
DID YOU KNOW?
Peanut butter is made by grinding dry roasted peanuts and is often sold with additional ingredients such as salt and sweeteners?
If you buy your Peanut Butter from food stores that have a Vince Russell Nut Butter Mill, then the Peanut Butter will be fresher, and most often free off additives (check the labels or ask the shop staff).