Ditch sugary, big-name energy bars in favor of a homemade Almond Energy Bar filled with almond butter, rolled oats, and cacao nibs.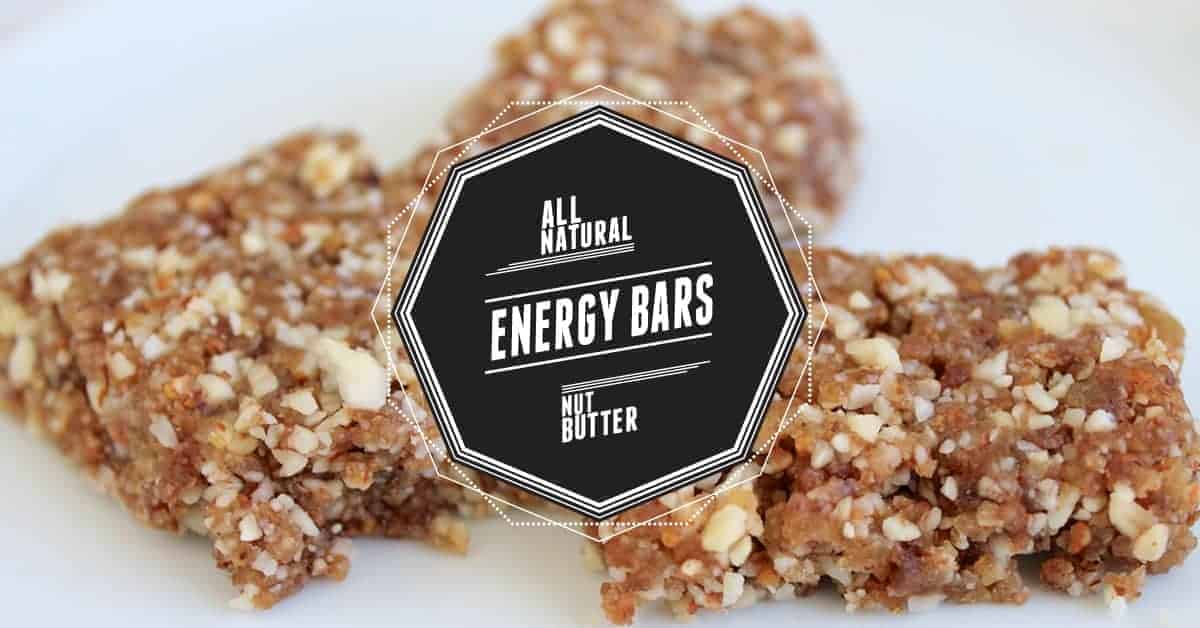 In theory, store-bought energy bars sound great. They're small enough to fit inside our bags, filling enough to get us through to our next meal, and made with plenty of energy boosting ingredients. Unfortunately, many well-known brands are also loaded with sugar, preservatives, and dairy. Because we wanted a healthier option, we bring you this on-the-go snack that combines roasted almond butter, cacao nibs, vanilla bean, and rolled oats. Packed with protein and omega-3-rich hemp and chia seeds, our bars are easy to make and can be stored in the freezer for up to a month. Make a few batches for busy mornings, afternoon pick-me-ups, or whenever you crave a nutty, decadent treat.
Almond Energy Bars Ingredients
Makes 12 bars
½ cup sliced almonds or finely chopped whole almonds
1½ cups rolled oats
1 cup puffed rice cereal
3 tablespoons chia seeds
2 tablespoons hulled hemp seeds
½ teaspoon cinnamon
¼ teaspoon salt
½ cup brown rice syrup
½ cup smooth roasted almond butter
1 teaspoon vanilla
1 vanilla bean, seeds removed
¼ cup cacao nibs
Alternative blends
Change the flavor by swapping the almonds and almond butter for equal parts peanuts and peanut butter or hazelnut spread and roasted hazelnuts.
Add a tablespoon of maple syrup for extra flavor and sweetness.
Spice it up, experiment with different spices such as ground ginger, fresh nutmeg, cinnamon, and allspice.
Add dried fruit such as cherries, cranberries, and apricots adds a chewy texture and a subtle tartness while complementing the flavor of the toasted almonds.
Method;
Preheat oven to 165 ° C (325 degrees °F). Onto an ungreased baking sheet, spread almonds and toast for 10 to 12 minutes, or until lightly golden. In a large bowl, stir together toasted almonds, oats, cereal, chia seeds, hemp seeds, cinnamon, and salt.
In a medium saucepan over low heat, whisk together brown rice syrup and almond butter until smooth. Increase heat to medium and bring to a low simmer while stirring. Remove pot from heat after 1 to 2 minutes.
Into the brown rice syrup mixture, whisk vanilla and vanilla bean seeds. Let sit for 1 minute to cool. Pour over dry ingredients, stirring with a metal spoon until well-combined. Let sit for 1 minute to cool, then stir in cacao nibs.
Line a 9-inch square pan with parchment paper. Spoon mixture into prepared pan, lightly wet your hands, and gently spread into pan. Sprinkle remaining 1 tablespoon chocolate chips on top. If needed, with a pastry roller or by lightly wetting your hands again, press down on mixture until smooth and even.
Place pan in freezer, uncovered, for 10 to 15 minutes or until firm. Cut into bars using a pizza slicer or serrated knife. Bars can be wrapped in plastic wrap, then placed in a zip-top bag, and stored in a sealed container in the refrigerator for up to one week or in the freezer for up to one month.