Peanut Butter Brandy Pound Cake with a Chocolate Drizzle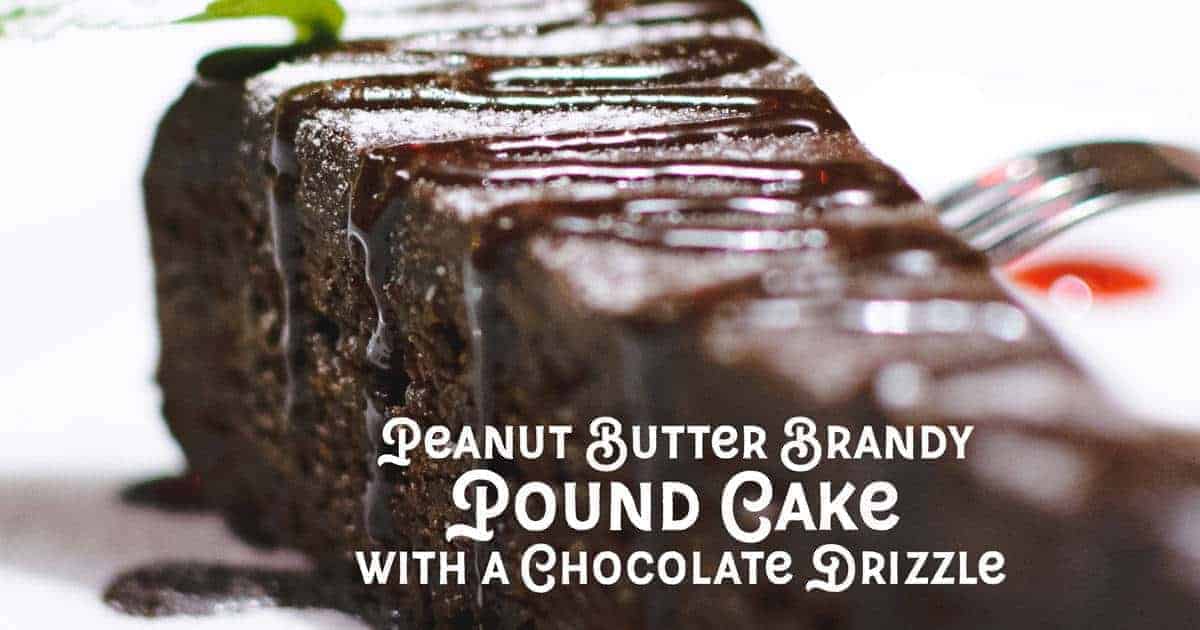 You'll think you've died and gone to peanut butter heaven with this overdose of chocolate and peanut butter to the highest degree.
Cake ingredients:
1 cup sugar

¾

cup vegan butter
1 cup vegan sour cream

⅓

cup creamy peanut butter
2 teaspoons vanilla

¼

cup brandy
2 cups all-purpose flour
1 cup whole-wheat pastry flour
1 teaspoon baking powder
2 teaspoons ground golden flaxseeds or 3 teaspoons LSA
½ teaspoon salt
½ cup soy or coconut milk creamer
Cooking spray, for greasing
Serves 8
For the chocolate drizzle:
¼

cup unsweetened almond milk
½ cup, plus 1 tablespoon dark chocolate chips

¼

teaspoon vanilla
⅛ teaspoon salt
Method;
To make the cake, preheat oven to 350 degrees. In a stand mixer, using a paddle attachment, add sugar, vegan butter, sour cream, peanut butter, vanilla, and brandy. Blend until creamy. Alternatively, use a hand mixer, but be careful not to overmix.
In a separate bowl, whisk together flours, baking powder, flaxseeds, and salt. With stand mixer on low, slowly incorporate flour mixture into wet ingredients. When well mixed, add creamer, and mix until smooth and uniform, about 10 seconds.
Grease a 10-to-12 cup bundt pan with cooking spray. Spread batter into pan. Bake 1 hour, rotating halfway through baking time. Bake until toothpick inserted near center of cake comes out clean. Cool in pan about 15 minutes before loosening and flipping onto cooling rack. Gently remove cake. Cool completely on wire rack.
To make the chocolate drizzle, in a small pan, bring almond milk to a simmer. In a small bowl, add chocolate chips, and pour heated almond milk and vanilla over chocolate chips. Add salt, and allow mixture to rest about 30 seconds. Whisk until smooth, and drizzle over cooled cake.
Substitute crunchy peanut butter for the creamy peanut butter if preferred.