Tofu and Sweet Potatoes in Peanut Sauce
Recipe that Rocks the Taste-Buds​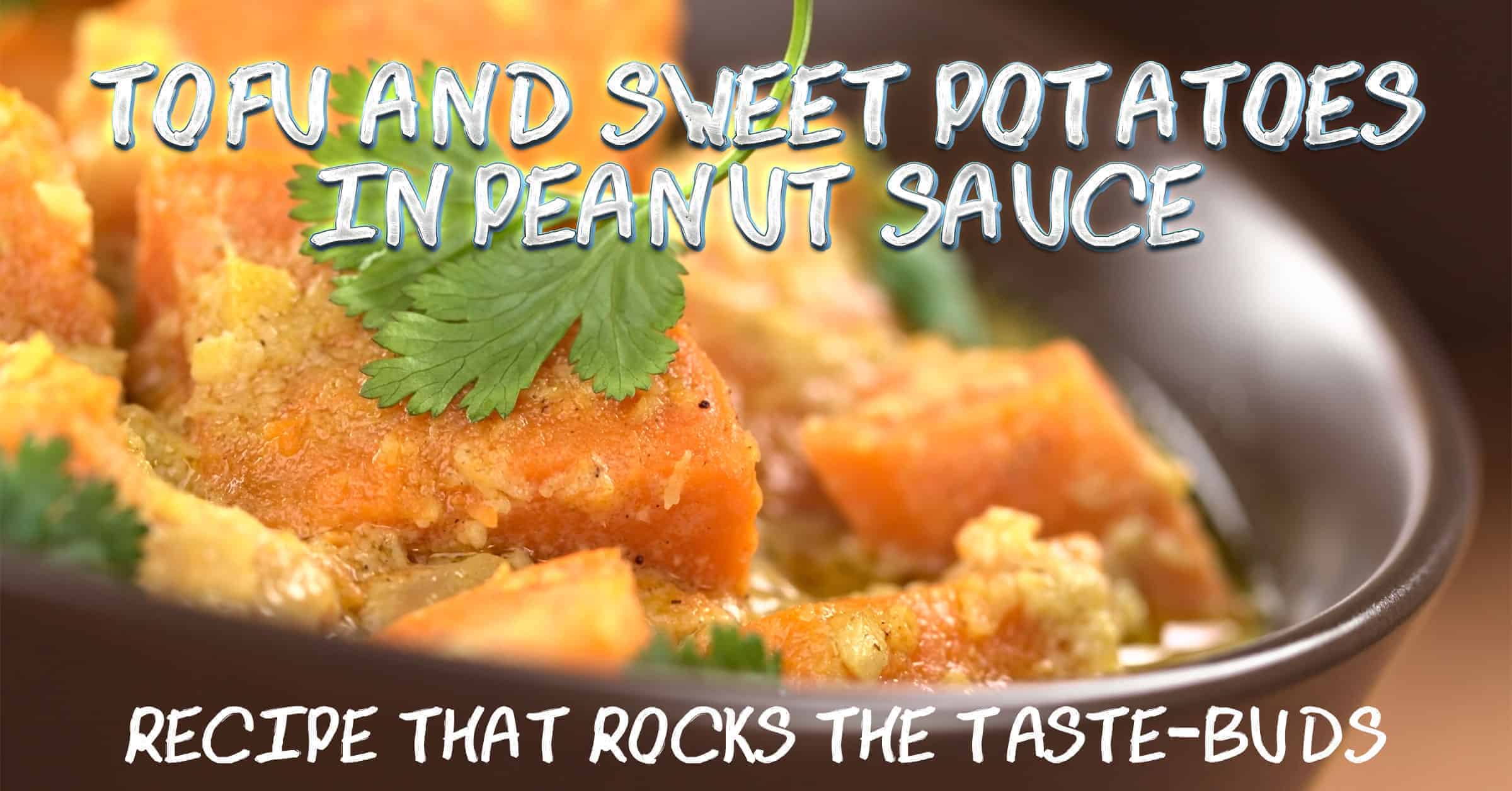 Tofu and sweet potatoes with sweet and spicy Peanut Sauce, a Southeast Asian style recipe. Cubes of tofu and sweet potato are cooked until lightly brown and crisp, and served with a lively, spicy peanut sauce for dipping.
Preparation Time: 1 hour. Yield: 4 servings.
Ingredients:
250 grams firm tofu
2 medium size sweet potatoes or yam
1½ cups of peanut butter
4 tablespoons apple cider vinegar
3 tablespoons fresh lime juice
Salt to taste
Crushed red pepper to taste
⅓ cup hot water
Cornstarch for dredging
Peanut oil for dredging
3 tablespoons minced fresh coriander
Caramelized Onion Condiment
1 medium-sized brown onion
2 tablespoons peanut oil
Peel onion. Cut in half, then in very thin slices. In a heavy skillet, cook the onion slices in oil over low heat for 20 to 30 minutes, stirring occasionally.
When the onions are very, very well done, remove with a slotted spoon and drain on paper towels to absorb excess oil. Place in an attractive small dish and serve at room temperature.
Preparation Time: 5 minutes to prepare, 30 minutes to cook. Yield: Enough for 4 as a condiment. Very easily multiplied.
All but the dredging and sauteeing can be done up to several days in advance. Store tofu, sweet potatoes and sauce in separate airtight containers in the refrigerator. Reheat the sauce either in a microwave or very gently on the stovetop. (The sauce does not have to be piping hot, as long as the tofu and sweet potato cubes are.) About 45 minutes before serving time, put up 2 cups brown rice to cook in 3 cups water. Bring to a boil, cover and lower heat to a very slow simmer. Cook undisturbed for about 35 minutes, or until tender.
Cut tofu into 1-inch cubes. Scrub or peel sweet potatoes, and cut them slightly smaller than 1-inch cubes.
Fill a medium-sized saucepan with water and bring to a boil. Add tofu and boil for about 5 to 8 minutes. Remove with a slotted spoon. Add sweet potato chunks and cook until just tender (about 8 to 10 minutes). Drain everything well, and set aside, keeping tofu and potatoes separate.
In a small saucepan, combine peanut butter, vinegar, sugar, lime rind and juice, salt, red pepper and water. Cook uncovered over low heat for about 5 to 8 minutes. Set aside.
Place cornstarch on a large plate, and lightly dredge (cover) the tofu and potatoes. Use a strainer to shake off any excess.
Heat a medium-large skillet and add 2 tablespoons oil. Saute the tofu chunks until lightly brown and crisp. Remove with a slotted spoon and place on paper towels to drain. Cook potato chunks in the same manner. After draining both tofu and potatoes on paper towels, arrange them next to each other in a serving bowl or on a platter.
Transfer the sauce to a small serving bowl and sprinkle the top with coriander. Serve the chunks with the dipping sauce and Caramelized Onions (see recipe below) on the side as a heavenly condiment.